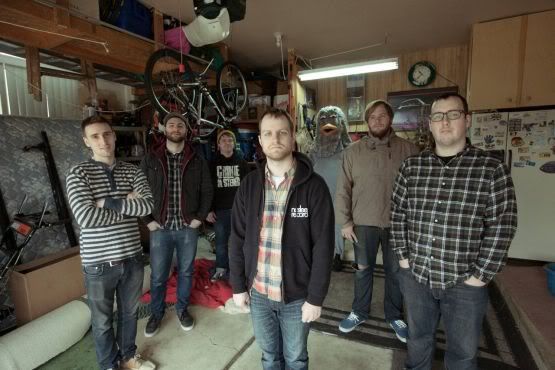 The Linch Agency is a music events activation agency that was borne out of the passion for music. We basically deal with Events/Concert design, conceptualise/execute music marketing campaigns for clients and love music programming! 
We are proud to present The Wonder Years 'Live' in Singapore for a one night only concert on the Friday, 28th Sept 2012 at one of Singapore's premier live music venues, TAB.
Vocalist Daniel 'Soupy' Campbell, guitarists Matt Brasch and Casey Cavaliere, keyboardist/guitarist Nick Steinborn, bassist Joshua Martin and drummer Michael Kennedy have known what it's like to play to 10 kids in Salt Lake City…but their mindset hasn't changed, even when playing to 1,000 kids in Boston. This mentality and determination has resulted in The Wonder Years never taking a day off, always going the extra mile to interact with fans, playing emotionally draining live shows, and, most of all, leaving a legacy in their recorded music. The group is still "involved in every aspect of the band," according to Campbell, so everything that comes out is as good as it can be.
Releasing 'The Upsides' in January 2010, a complete departure from The Wonder Years' early work, was just the beginning of an ongoing avalanche of momentum that has led the Philadelphia sextet to the forefront of the pop-punk community. Engaging musicianship, reaching far beyond the repetitive droning of most of the genre, and intimate, instantly relatable lyricism made The Wonder Years a critical darling even before hordes of fans began to take notice. But it didn't take long for everyone to jump on board. Signing to Hopeless Records with their brand of "realist pop-punk" and re-releasing The Upsides with bonus tracks brought about new buzz, and the release of the sprawling, 13-track concept record 'Suburbia - I've Given You All and Now I'm Nothing' in June of 2011 confirmed what many thought: The Wonder Years were for real.

The Wonder Years have graced the cover of Alternative Press, played an entire summer on the Vans Warped Tour and opened for New Found Glory on the Pop Punk's Not Dead Tour to close out 2011. They opened 2012 in a huge way, with the Glamour Kills Tour, which Campbell called the band's "first big-boy headliner." Leading Polar Bear Club, Transit, The Story So Far, A Loss for Words and Over It. across the country for six weeks of sold-out shows proved that The Wonder Years are still growing, still making new friends, and still breaking new boundaries.

This Sept, come on down to the show for a punk rock party!

SHOW DETAILS

Date: Friday, 28th Sept 2012
Venue: TAB
Tickets: S$35** (Pre sale), S$45 (at the door)
Doors open: 630pm
Show starts: 730pm
**Ticket price includes the Ape Snap booking fee
All presale tickets bought will come with a free concert poster worth $5.